Launch of #RespectMySex campaign
Together with Heather Binning of the Women's Rights Network and Caroline ffiske of Women Uniting, on Saturday 2nd April Maya Forstater, the executive director of Sex Matters, launched the "Respect My Sex if You Want My X" campaign.
The story made the front cover of the Daily Mail, and had further coverage in the Mail and Express. It also trended on Twitter. More details of the campaign can be found on the Women Uniting website.
Maya Forstater's remarks
The local elections are an opportunity for people across the political spectrum to raise their voice about an issue that effects women across the political spectrum.
Being here in Westminster to launch this campaign is particularly poignant for me, because we are standing here today right next to my old workplace.
My walk to work from Westminster tube station to the office took me past the statues of Emmeline Pankhurst and Millicent Fawcett. During the long, lonely months when I was being investigated and losing my job I would walk past Millicent Fawcett with the "Courage Calls to Courage" sign, and I felt like she was holding it up for me.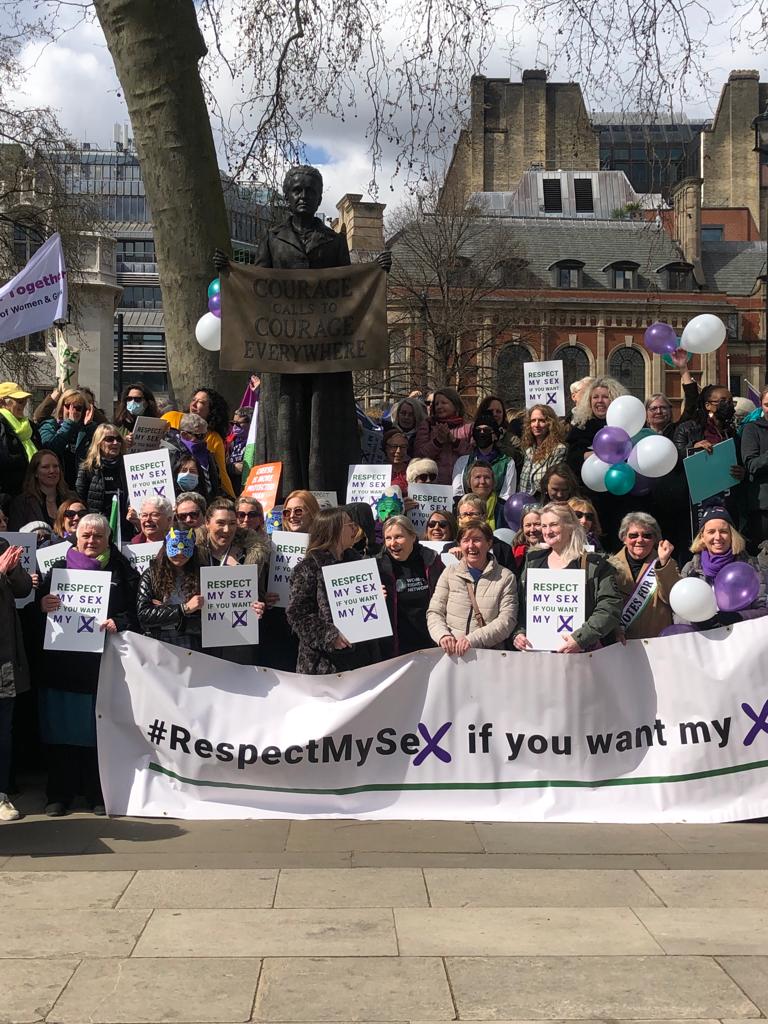 Today she is holding up her sign for all of us. And we are many.
There is a direct line from their fight to ours. It is a little more than 100 years since women were first allowed into democratic participation: getting the vote, being elected as Members of Parliament, and gaining admittance to universities and the professions.
These women fought for women to be seen as full human beings, against an establishment that opposed them.
We now see how easily women's democratic participation can be taken away; how the word "woman" and the ability to talk about women's lives can be taken away, and how women can be made afraid to take part in democratic debate about an issue that affects us profoundly.
Today is also poignant for me because I have brought my mother with me, and this is the first time she has heard first-hand about the impact that my case and the "Worthy of Respect" judgment have had on others.
I think of the second-wave feminists of my mother's generation, who fought for women to have full equal rights, equal pay and reproductive rights, and who challenged male violence and set up women's refuges.
We now see how easily women's services and the ability to talk about male violence can be taken away.
Our fight is a nationwide effort on a single issue that threatens to undermine all the work of the brilliant and brave women who've come before.
I am proud to stand up with Women Uniting and the Women's Rights Network, and as director of Sex Matters, to launch this local election campaign.
It is brilliant to see women of every generation here, as well as men standing with us. Politicians cannot continue to dodge our questions and deny women's rights.
We encourage everyone to ask their candidates four questions when they come to the doorstep:
Ask them if they can define what a woman is.
Ask them if they understand that the Equality Act protects single-sex services.
Ask them if they will protect single-sex services in your community.
Ask them if they will make sure that the concept of sex is retained clearly in local council policies in order to protect women's rights, and child safeguarding.
Courage Calls!